In less that TWO days, The Fantasia International Film Festival, one of the coolest places to be if you are a film lover (As we know you are) will begin its 2018 edition, and while we might not be there in person, there are several films that got us excited since they were announced.
Here a list of SOME of the films that either we would love to see or we have seen and recommend you to watch:
(please note that the main synopsis is taken from the official Fantasia International Film Festival)
Parallel:
Is no secret that I love Isaac Ezban's films, both "The Incident" and "The Similars". The guy is a big fan of science fiction, and has no problems pushing the envelope when telling a story. I am really hyped to see his first film in English with an international cast.
Synopsis: A group of young tech developers, Josh (Marc O?Brien), Carmen (Alyssa Diaz), Lena (Georgia King), Devin (Aml Ameen) and Noel (Martin Wallström), struggle to strike partnerships with possible business investors. After receiving some bad news, the group returns to their rental house to strategize, but their brainstorming session is cut short when they discover a portal to a multiverse hidden in their attic. World-hopping through a supernatural gateway, they quickly begin to gather knowledge between dimensions for their benefit, both professional and interpersonal. Some capitalize by stealing time from elsewhere, others moonlight in foreign dimensions gathering credit for stolen work. This illusory time-warp chronicle has marshalled the protagonists? dissatisfied self-images by looking to differing times and spaces to in order to conjure personal change. But as the characters ambitiously double and substitute as they please, seemingly innocent "Groundhog Day-ing" turns to playing with fire. In efforts to improve their lives, terrible consequences quickly begin to outweigh the good in tragic and disturbing ways.
One of the sequels that fans have been waiting for years is finally here. The original "Tales From The Hood" had a smart social commentary mixed with very cool stories that eerily enough, presented situations that we can relate with TODAY on the real world. (And no, I am not talking about the story about the domestic abuse). I was sad to see that the original film didn't get the love and success that deserved when it was released, but as time passed, the film has become a cult favorite. I am very excited to see where the segments will take us this time.
Synopsis: Horror is back in the hood! The sequel to the groundbreaking original film TALES FROM THE HOOD reunites executive producer Spike Lee (Honorary Academy Award® winner) and writers/directors/producers Rusty Cundieff and Darin Scott for an all-new gripping, horrifying and oftentimes devilishly comical anthology. Keith David stars as a contemporary Mr. Simms to tell bloodcurdling stories about lust, greed, pride and politics through tales with demonic dolls, possessed psychics, vengeful vixens and historical ghosts. Mr. Simms's haunting stories will make you laugh… while you scream.
Laplace's Witch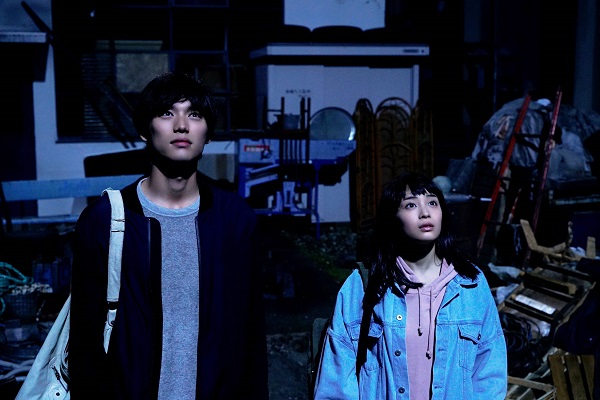 Takashi Miike-Sensei is back! Need to say more? Boundaries are pretty much non existent for this man when he has a story to tell. He can easily find the buttons to push in order to makes us shiver or squirm (Audition, Visitor Q, Imprint) has no trouble to make his characters look very silly when doing a live action adaption (Ace Attorney, TerraFormars), or going the distance with the ultra violence (Ichi The Killer, Lesson Of The Evil, As The Gods Will). Even if for some reason you find yourself not liking one of his films, you can count on one thing, you won't forget them easily.
Synopsis: Somewhere in Japan, a body has been discovered. A dead body, found by a hot spring in a scenic winter setting. And then another, in the same place. Both victims died rather unusually of hydrogen sulphide poisoning, so the police consult geochemistry professor Shusuke Aoe (Sho Sakurai, star of Miike's YATTERMAN) to see if it could possibly be murder. As such a thing could only happen if the killer had precise knowledge of all of the surrounding geological conditions in the area, it's a pretty far-fetched notion, until Aoe meets Madoka Uhara (Suzu Hirose), who happen to possess such knowledge. This will lead the professor and the police down an unexpected path, into a world where the supernatural, the mystical and our reality meet, and a battle between life, death and the realms that exists beyond them both.
Mandy
The trailer looks insane, and ever since "Drive Angry" (a film that I saw in theaters three times over the opening weekend) I have wanted to see Nic
olas

Cage go berserk

and kick ass

(drinking from a skull again would be a plus), coming from the director

Panos Cosmatos, and having characters that look out of a Clive Barker book, I think I'll get my wish.
Synopsis: The peaceful existence of Red Miller (Nicolas Cage) in the Shadow Mountains of 1983 is burned to the ground when a deranged religious sect fixates on Mandy (Andrea Riseborough), the love of his life and, as is soon made very evident, a significant grounding force in his universe. Things deteriorate into a tranced-out nightmare of insect venom, hard drugs and broken-minded delirium as Red journeys into hell in order to avenge the woman he once lived for. Blood will flow in rivers. Worlds will collapse unto themselves.
Terrified
I've been following this film for what it seems a long time, to this day I have heard nothing but praises. I am excited to see that a film from a Latin America is making such big waves. Can't say more, is one of the very rare ocassions where I decided to avoid even the trailers until I see the feature.
Synopsis: The lives of three neighbours in Argentina are turned upside down following a series of violent deaths in the area. For retiring inspector Funes, what was supposed to be an easy case suddenly takes a strange turn and he finds himself dealing with more than he can handle. Paranormal experts are brought in to assist in investigating what they believe to be haunted houses, where they will be tested by an evil the likes of which they have never encountered. As the night goes on and chaos is unleashed upon them, nothing, and no one, can be trusted.
Nightmare Cinema
LOVED the anthology series "Master Of Horror", I was very upset when they announced that the second season was the last one. Mick Garris has directed several of my favorite horror films, and when I heard about this project where he would be joined by another of my favorite directors Alejandro Brugés (who brought us the hilarious and sadly very misunderstood "Juan Of The Dead") along with Ryuhei Kitamura (Midnight Meat Train, Downrange) David Slade (30 Days of Night ) and Joe Dante (do you really need me to name his films?) I was sold…
Synopsis: At a forgotten, haunted bijou, a group of strangers have assembled to watch a series of macabre vignettes unspooled by the mysterious Projectionist (Mickey Rourke). Like the best anthology films (DEAD OF NIGHT, CREEPSHOW, TRICK 'R TREAT), the stories' tones range from truly deep, dark, psychological, demented horror to ones with a lighter, satirical spin. Witness a ghost story that will chill you to the bone; an exorcism story guaranteed to make your head spin; a B&W descent into clinical madness; a plastic surgery gone horrifyingly awry; and a cabin-in-the-woods slasher ditty with a unique twist you'll never see coming.
Tigers Are not Afraid (A.K.A. "Vuelven")
This film I had the chance to see at Screamfest last year, and I can't recommend it enough. Is one of those films that manages to mix the urban drama with dark fantasy and horror, and while it has a social commentary that will punch you in the gut and bring you to your knees, it never turns preachy nor tries to emotionally blackmail you. It shows you the darkest and cruelest facts of the kids living in the streets in México, and somehow manages to leave you with a sense of hope.
The acting of the kids is great and natural. The director and writer Issa López brought one of the best films I've seen in recent years, and I highly recommend that you see it.
Synopsis: Eleven-year-old Estrella's mother has gone missing, the latest uninvestigated victim of neighbourhood cartels. Heartbroken and suddenly stuck on her own, Estrella ventures out into the streets, joining up with a gang of abandoned children. She soon finds herself thrust into the center of a vicious life-and-death battle with remorseless cartel members stalking the kids, as her world ignites with supernatural energies that bend her reality in ways both empowering and endangering.
V.I.P
Coming from Park Hoon-jung and in a similar vein of his amazing "I Saw The Devil", comes "V.I.P"!
I saw this film in last year's AFI FEST, and is an amazing police thriller that manages to keep you intrigued, disgusted, angry, frustrated, excited and cheering. I would suggest to see this film not wasting your time trying to guess the ending, and to just enjoy the ride. Using the real life North Korea political history as a reference at key points, "V.I.P" delivers a smart, fast paced thriller with great characters and powerful acting performances. A MUST watch.
Synopsis: Watching a Park Hoon-Jung movie is like being beaten to death by a giant robot made of red meat and powered by testosterone ? it?s a terminally macho experience. Now, after directing the swaggering gangster epic, NEW WORLD, and the swaggering man-vs.-beast epic, THE TIGER, the screenwriter behind Ryoo Seung-Wan?s THE UNJUST and Kim Ji-Woon'?s I SAW THE DEVIL abandons his swagger to go dark. The world may be riveted by North Korean/South Korean tensions, but leave it to Park to up the intensity by tossing a serial killer into the mix.
And here we are folks, I hope you are one of the lucky people that will get to see this films (and the other ones that l did not mention. but also looked great) at Fantasia International Film Fest… If you do see them and want to share some thoughts, leave some comments down below!